Application of Aerial Plant Hardware For CATV
Views: 242 Author: Site Editor Publish Time: 2018-11-07 Origin: Site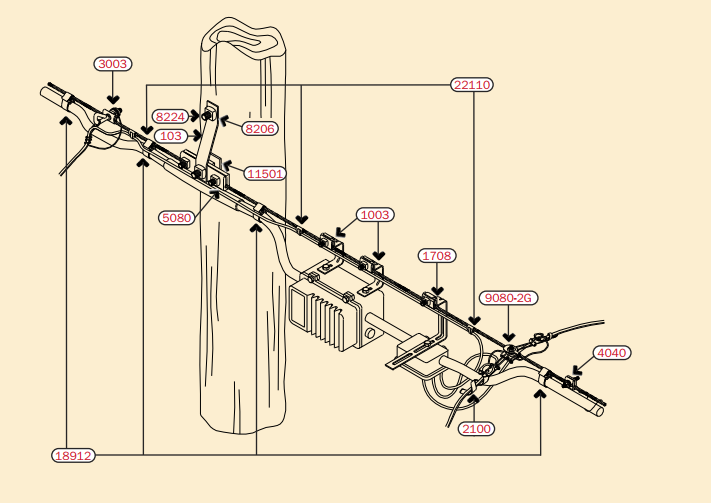 Aerial Plant hardware products contains: span clamp, Reinforcing strap, 2-1/2'' tap bracket, Cable lashing clamp, stainless lashing strap, B cable suspension clamp, drop wire clamp, cable tie and so on.

these above products are frequently used in Aerial facility construction project.
By seeing the above picture you will find each part of them and will know what is the use of each and how does each part drop hardware works. The Picture is just a part of the project. You can see the straight line pole , an reinforcing strap(103)with fixed on the pole by an square head machine both(8224)with nut(8206) and the other side of the strap was connect to an B cable suspension clamp(5080)to make the strand tightly attached on the straight line pole. the aerial cable goes along with the strand and tied by stainless lashing strap(18912)at certain distance.
The 2-1/2''tap bracket (1003) and adjustable tap bracket (1708) was used to hold the terminal box to the strand. some aerial wire come from the terminal box one of them was connect by CATV drop wire clamp (2100), the other side of the CATV drop wire clamp was connect by an Multi-drop wire clamp (9080-2G) on the strand.One of the aerial wire goes along the strand to another direction fixed on the strand by the cable tie. A O span clamp(3003) was installed on the strand attached with the aerial wire to the end user. By seen the above picture and introduction , i think you must have an general idea for the aerial drop attachment of CATV.
We, Hebei sincerity building hardware Co.,LTD, was an manufacturer and exporter for aerial hardware products, with many year of working experience in supplying aerial cable hardware, building hardware and related products to the customer located in USA, CA, Mexico , France, Australia, Spain, Ecuador, UK and so on, enjoying a good reputation from customer.
Hebei sincerity building hardware Co.,LTD , Welcome and appreciate for all of your enquire and will give your our best service