Description-Plastic Rebar Chairs
Views: 252 Author: Site Editor Publish Time: 2018-11-02 Origin: Site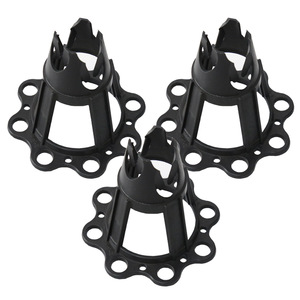 In order to make maximum use of the steel bars in the concrete industry, so proper spacing must be provided.According to the requirement of national code of reinforced concrete structure design, the plastic space masonry of reinforced concrete protective layer is designed. The plastic reinforced chairs for concrete support are used to support the reinforced bar mat or cage at the required height, in order to reach the more proper concrete cover and maximize the benefit of the reinforced bar.
The product adopts new technology, which is mainly used for the reinforcement and fastening of large load-bearing components such as foundation of building and foundation engineering, underground engineering or bridge, large building industrial layer or multi-layer steel connection.
We can select the concrete steel chairs to meet your next work needs. The reinforced concrete system is widely used in the formwork construction.The plastic reinforced chairs are used as a support system for many different precast and concrete applications. The rebar chair can be used to support the concrete slab, securing the post-tensioning cable in place, and assist other tasks involving foundation placement.And our plastic rebar chairs can reach and exceed the bearing capacity of steel supports or rebars, so it can be used in the same space as steel supports.The double-layer reinforced structure with proper spacing of reinforcement can withstand tensile stress and compressive stress, Therefore, its life expectancy is highly resistant to strain,improper spacing, even very small, can result in structural integrity reduction.
Our company can offers different sizes of concrete formwork products with many styles,can support the steel reinforcement stably on the ground or rock foundation without tear the plastic boards under the concrete. It is no impossiable to products many sizes and pattern plastic reinforced chairs as per the customers requirements.Heavy duty chair plastic steel chair are made of durable,corrosion-resistant and high-density plastics with the advantages of both strong and light. Our steel chair system can not change the shape and supply a uniform concrete cover.
The rebar chair spacer can be used for tilting and slab work,which are both solid and economic. Its fastening system is firm and durable, and has a strong versatility.
There is some advantages for our plastic rebar chairs.light weight durable plastic ingredients for easy operation,quick and convenient lock design can saves time,and eliminates fulcrum overlap,lower unit cost, support steel bars and grids on the ground until concrete is cast, and very easy to faster.
Only the workers who with steel experienced should install reinforced support chairs. The maximum spacing of chairs should not exceed 48 inches. It must meet the applicable specifications and design standards, and minimize the spacing from the edge of the template.