Description of the drop wire clamp
Views: 129 Author: Site Editor Publish Time: 2018-11-29 Origin: Site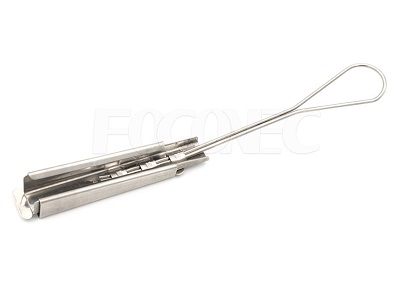 The drop wire clamps are used to support 1-2 pairs,and 6pairs of telephone drop lines in span fixtures,drive hooks,house hooks and various drop accessories.The suspension clamp have a proper length and shall not slip,and have a sufficient load breaks,the maximum load of the drop wire clamps reaches 555 pounds.The clamps can withstand all the harsh environmental conditions outside the telecommunications plant.The placement of holes in slots and clamps on internal wedges permit cable relaxation adjustments,proper tensioning.
The drop wire clamps are used to connect overhead fiber cable to optical equipment and indoor/outdoor installation. The clamps are made of non-polluting materials, can use for a long time. The drop wire clamps are equipped with firm shim,which strengthen the tension on the clamps. To a certain extent,reduce the cable slip and damage. Our clamps can provide a complete diamond drop hardware design to keep your aerial facilities safe and secure, which are very easy to install, at the same time still can guarantee a safe and reliable descent.
The drop wire clamps, also known as flat cable clip, can be used with telephone drop cable, fiber cable, which mainly used for communication.
The clamps can allow to mount on walls with drive hooks, bar brackets, brackets and other drop wire fittings. All stainless steel or plastic slimps are available, and perform good in the installation.
The tension load of stainless steel clamp are used together with stainless steel shim. They can make the drop wire clamps more stable and durable. The drop wire clamps consists of four parts, wedge, stainless steel wire bail, shim and shell. The drop wire clamps attaches the dead- end telephone drop line to the pole or the building,and provides long time service without corrosion.
Material: Aluminum,or stainless steel 201/304/316 in shell, wedge, shim and bail wire.
Tensile: 180KGS and 260KGS.
Feature: Resistant,wear-resisting,perfect tensile performance,stable and durable.
Package: Inner Box + Carton+ Pallet or according to the clients'requirements.