Enhancing Structural Stability with Sway Bracing Pipe Hanger Clamps
Views: 32 Author: Site Editor Publish Time: 2023-11-03 Origin: Site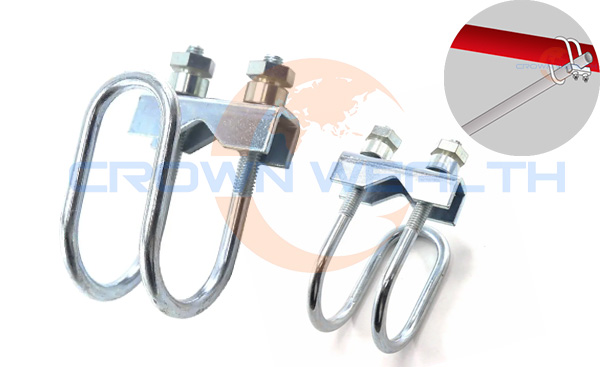 Structural stability is crucial for the safety and longevity of any building or infrastructure. One key aspect of maintaining structural stability is the proper installation and support of piping systems.
Understanding Sway Bracing Pipe Hanger Clamps:
Sway U-shaped bracing pipe hanger clamps are specialized clamps designed to provide additional support and stability to piping systems. They are typically used in areas where there is a high risk of lateral movement or sway, such as in earthquake-prone regions or buildings with heavy machinery. This pipe clamp is made of durable materials such as galvanized steel or stainless steel, designed to withstand significant forces and vibrations.
Preventing Lateral Movement:
One of the main advantages of sway bracing pipe hanger clamps is their ability to prevent lateral movement in piping systems. Lateral movement can occur due to seismic activity, wind loads, or operational vibrations. By securely fastening the pipes to the building structure using sway bracing clamps, the risk of pipe displacement or damage during lateral movement is significantly reduced. This ensures the overall stability of the structure.
Absorbing Vibrations:

Another benefit of sway bracing pipe hanger clamps is their ability to absorb vibrations. Operating machinery, such as pumps or compressors, can generate significant vibrations that can affect the stability of the surrounding structure. Sway bracing clamps act as shock absorbers, reducing the transmission of vibrations from the piping system to the building structure. This not only enhances structural stability but also minimizes the potential for equipment damage or malfunction.
Improving Safety:
By enhancing structural stability, sway bracing pipe hanger clamps also contribute to improved safety. Sway bracing clamps help to prevent pipe damage, reducing the potential for hazardous leaks or ruptures. Additionally, by minimizing lateral movement and vibrations, the overall safety of the building or infrastructure is increased, protecting occupants and workers.
Hebei Crown Wealth is a professional supplier of hardware products. If you have any questions please contact us, our friendly staff are always on hand to answer your questions.