How and Why to Cap Your Rebar
Views: 283 Author: Site Editor Publish Time: 2018-11-12 Origin: Site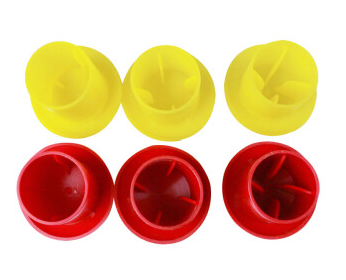 Why to Cover your Rebar

As though falling were no longer sufficient, falling onto exposed rebar can turn a survivable fall into a catastrophe. Rebar caps guard the falling worker from impaling themselves on the concrete rebar the is sticking out at some stage in the construction system.
Steel reinforcing rebars are a usual safety hazard on production websites. These rebars have the potential to reduce, scratch, pierce, and impale people, which can result in critical internal injuries and dying. To be able to cast off the danger of impalement, rebar and other projections on a worksite should be guarded, or included. no matter the impalement safety technique used, it's far crucial to constantly put on right fall protection device while running above rebar or other sharp protrusions.
Protective Guard Structures
Guarding from rebar impalement hazards is critical while rebar is situated around, underneath, or above any working regions. using steel-bolstered rebar caps to cowl the sticking out ends of rebar are a highly effective technique of lowering the hazard of worker impalement. it's miles essential to ensure rebar caps are robust and degree while they're applied.
How to Cover Rebar
The solution to this problem is simple, but very effective. There is no danger of cutting and stabbing with our rigid polypropylene caps covering the end of the reinforcing bar.
Rebar caps are made to suit all sizes of rebar, these plastics rebar caps are placed on the end of rebar to save you a falling worker from being impaled at the uncovered rebar.
Rebar safety caps provide the protection you want from protruding rebar at your construction and precast websites. They can be used to protect personnel and gadget from exposed rebar, pipe, and anchor bolts. Those extremely good caps are exquisite orange for excellent visibility, and in shape #3 - #8 rebar. These caps offer extra protection than the rebar scratch caps, but aren't intended to save you impalement.
Types of Rebar Caps
Square Rebar Caps:
The protection of square rebar cap is supplied by means of the steel plate inside the flat part of the caps.
Mushroom Rebar Caps:
Also called "scratch" caps as they offer scratch protection while working around in-place rebar.
Reusable rebar caps are used to prevents accidental harm to rebar threads and for protection purposes.
Not intended for impalement safety
Bright orange coloration for better visibility
Standard rebar safety cap recommended for rebar sizes #3 - #8
Large cap fits up to 2" diameter
Metal plated rebar protection caps
The important thing features of rebar cap are as per underneath:
Defend threads from damage.
Adequately for protruding rebars.
Prevents corrosion.
Reusable.
Quick and easy to install.
Eliminates costs associated with injuries and downtime from rebar impalement.
Made of rugged, sturdy and reusable plastic.
Economical