How to choose right bird deterrent products
Views: 227 Author: Site Editor Publish Time: 2018-10-31 Origin: Site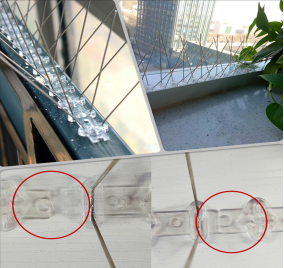 As a kind of effective and humane bird-repelling product, bird spikes has been widely used in various countries and regions, avoiding the adverse effects of bird landing and nesting. However, the species of birds in each country are different. It is necessary to select suitable bird thorns according to the pest bird type and environment, fixed surface conditions and other factors. Here we make the following recommendations.
1.Bird species: When the bird types are complex and the body types are inconsistent, it is recommended to select the products that are densely packed, and recommend more than 4 rows of products.
2.Weather: In the damp areas, it is recommended to choose plastic base spikes; for areas with strong UV, please select all stainless steel type, which can be used for longer time!
3.Fixed surface: When the fixed area is relatively narrow, please choose a narrow base (2CM or 2.2CM); on a surface with a slope and can not be fixed, it is recommended to select the bird deterrent wire system;if the use location is relatively wide, it is recommended to use with the bird netting, for better protection.
4.Selection of fixing tools: Glue is the most widely used, suitable for smoother planes; in addition, the screws are the most secure, but will leave holes; the straps are suitable for arcs where screws cannot be used. Our products are equipped with suitable screw holes and a smooth bottom to ensure smooth installation.