Learn About Pear Shape Swivel Loop Hanger Pipe Clamps
Views: 23 Author: Site Editor Publish Time: 2023-09-21 Origin: Site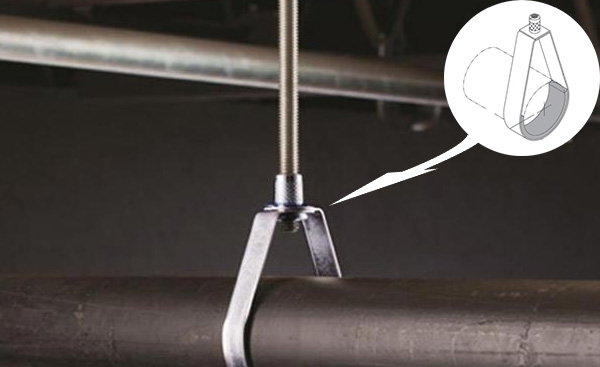 Pear shape swivel loop hangers pipe clamp are essential components in plumbing and HVAC systems. These hangers play a crucial role in supporting and securing pipes, ensuring their stability and preventing any potential damage or leaks.
Swivel loop hangers clamp, also known as swivel ring hangers, are designed to provide a secure and adjustable support for pipes. They consist of a loop that encircles the pipe and a threaded rod that attaches to a mounting surface. The unique swivel feature allows for easy adjustment and alignment of the pipe, ensuring a perfect fit and reducing stress on the pipe. This flexibility is particularly useful where pipes need to be installed at different angles or heights.
Pear pipe hangers, on the other hand, are shaped like a pear and are used to provide support for horizontal pipes. These hangers are typically made of durable materials galvanized steel or stainless steel, ensuring long-lasting performance. Pear pipe hangers are designed to hold the pipe securely in place, preventing any movement or vibrations that could lead to damage or leaks. They are typically used in commercial and industrial applications where the pipes are subject to heavy loads or high-pressure systems.
Both pear shape swivel loop hangers pipe clamp are available in various sizes and designs to accommodate different pipe diameters and installation requirements. They can be found in different finishes, such as zinc-plated or galvanized, to provide corrosion resistance and enhance durability.
When installing pear shape swivel loop hangers pipe clamp, it is important to consider the weight and size of the pipes, as well as the environmental conditions they will be exposed to. Proper installation and spacing of the hangers are crucial to ensure the pipes are adequately supported and prevent any sagging or misalignment.
Pear shape swivel loop hangers pipe clamp are indispensable components in plumbing and HVAC systems.
Their ability to safely support and regulate pipes is critical to ensuring the overall performance and lifespan of the system. By choosing the right hangers and installing them correctly, you can ensure the stability and integrity of your pipes, minimizing the risk of leaks and damage.
Hebei Crown Wealth is a professional supplier of hardware products. If you have any questions please contact us, our friendly staff are always on hand to answer your questions.