Pipe Strap Overview
Views: 225 Author: Site Editor Publish Time: 2018-11-26 Origin: Site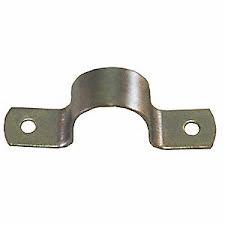 One hole or two hole Rigid Conduit Strap is used for securing EMT (Electrical Metallic Tube) , IMC or galvanized rigid conduit (GRC),SS201& SS304 to wood or masonry.
The zinc-plated steel is corrosion resistant. Used for interior and exterior use.The straps have a high load-bearing capacity and snap onto the conduit to hold it securely in place.
Available Material: Galvanized ,SS201 ,SS304
Usual size :5/8" , 3/4",1", 1-1/4",1-1/2",2" etc.for one hole and 1/2",5/8",3/4",
1",1-1/4",1-1/2",2" ect. for two hole .
Secures rigid or IMC conduit to wood, masonry and other surfaces
For Greater load
Good performance for anti corrosion .
Packing will be box + carton+pallet .
using screws and straps with either single hole or double holes to attach electrical conduit fittings to the wall, masonry or the other surface