Plastic Fiber Optic Drop Clamp with S-Type Cable Attachment
Views: 106 Author: Site Editor Publish Time: 2023-04-27 Origin: Site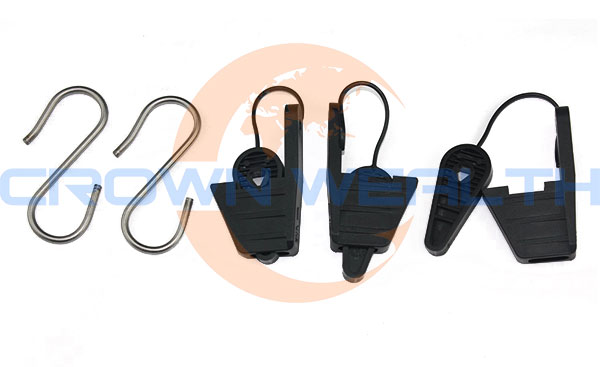 Fiber optics is an essential technology for modern communication systems. It enables us to transmit information over long distances with minimal signal loss. In fiber optic networks, drop wires are used to connect individual homes and businesses to the larger network. The plastic fiber optical drop wire clamp is a crucial component in ensuring that these connections are secure and reliable.
The plastic optical fiber drop clamp is divided into two parts, the plastic part and the hook. The plastic parts are nylon and the hooks are stainless steel and galvanized steel. Nylon plastic fiber optic drop clamp with a stainless steel hook, the maximum pulling force is about 200 kg, and the surface is injection molded.
The clamp is easy to install and can be used with a variety of different drop wire sizes. It features a unique locking mechanism that ensures a tight and secure grip on the wire. This prevents it from becoming loose or dislodged, which can cause signal loss or other issues.
Nylon plastic fiber optic drop clamps are used to securely fix the position of wires, cables, and pipe fittings. The texture is tough and not easy to break. It is a good choice for organizing cables. In addition, it is corrosion-resistant-rust and corrosion-resistant, heat insulation-thermal conductivity, and non-magnetic-non-magnetic. This makes it ideal for long-term use in outdoor fiber optic networks.
In addition to its durability and reliability, the plastic fiber optical drop wire clamp is also highly cost-effective. It is an affordable alternative to more expensive metal clamps, which can be prone to rust and corrosion over time. The plastic clamp is also lightweight and easy to handle, which makes it easier to install and maintain.
Overall, the plastic fiber optical drop wire clamp is an essential component in fiber optic networks. It provides a secure and reliable connection between individual homes and businesses and the larger network. Its durability, reliability, and affordability make it an ideal choice for outdoor use in a wide range of environments.