Standard Banding Tool That's Build to Last
Views: 65 Author: Site Editor Publish Time: 2023-09-13 Origin: Site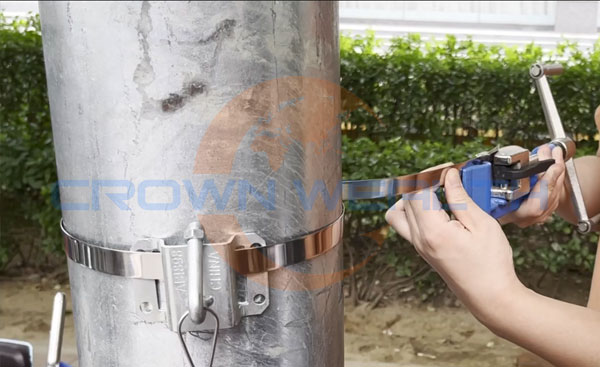 The manual strapping tool is constructed using high-quality materials, ensuring its durability and longevity. It is designed to withstand the rigors of daily use in demanding environments. Ensure the tool operates stably with proper care and maintenance, providing a reliable bundling solution.
The Stainless Steel Manual Banding Tools is a rotary tensioner tool designed for tensioning stainless steel strapping around utility poles and pipes. It features a spring-loaded grab bar for more efficient strap handling, and the cutting handle is vinyl-coated for more comfortable operation. It also features a built-in cutter to remove excess strapping. The spinner type tensioner tool can tension up to 2400 lbs, and accommodate 1/4" to 3/4" wide strapping with band thicknesses of .020" to .030". The tool weighs 4 lbs., is 10" long and has an arm length of 5".
Instruction
- Cut the strap to the required length
- Insert on end of the banding strap through the buckle and bend it under the buckle
- Wrap the other end of the banding strap around the application and then slot it through the buckle
- Take the tool and ensure that the spinning handle is screwed into right into the tool
- Slot the loose end of the banding strap into the banding tool so that it feeds through the nose of the tool and the gripper.
- Twist the handle so the banding strap to achieve required tension
- The tool will be required to be bent towards the buckle so the applied force is secured. But while the tool is being bent towards the buckle, the handle should be turned anti clock wise which will slightly loosen the strap and preventing it from over tightening. Only around ½ of a turn or a full turn should be performed. Every banding situation is different, therefore attention should be paid not to over tension the banding, and not to leave it too loose
- After the tool is bent towards the buckle, cut the banding strap with the in-built tensioner
- Hammer down the lugs of the buckle or the clip
Its adjustable settings, ease of use, versatility, durability, and cost-effectiveness make it a reliable tool for a wide range of applications. With this tool in hand, bundling items securely and effectively becomes a simple task.
Hebei Crown Wealth is a professional supplier of hardware products. If you have any questions please contact us, our friendly staff are always on hand to answer your questions.