The Difference Among Different Stainless Steel Grades
Views: 47 Author: Site Editor Publish Time: 2019-01-08 Origin: Site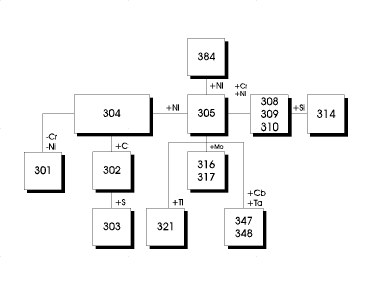 The stainless steel can be divided into five series, according to the component: 200 series (Cr-Mn-Ni), 300 series (Cr-Ni), 400 series (Cr), 500 series and 600 series.
200 Series
201, 202: The Ni is replaced by Mn partially, reducing the corrosion resistance capacity. It's widely used as a cheap alternative to the 300 series.
This series can be used to make banding strap, cable ties, cable zips, post caps, pipe clamps.
300 Series
301: It has good ductility, can be used to shape forming and be quickly hardened by machining. It has good weldability, making abrasion resistance and fatigue strength better than 304 stainless steel.
302: It has the same corrosion resistance capacity with 304, but is harder than 304.
303: Easy to cut than 304.
304: It's the most common grade. There is no magnetism. It contains 18% Cr and 8% Ni.
It's widely used in furniture, tableware, fence, medical materials, building hardwares (like banding strap, cable ties, cable zips, post caps, pipe clamps).
309: It has better high temperature resistance capacity than 304, utmost to 980℃.
310: It has excellent oxidation resistance at high temperature, and can be used at 1200℃.
316: It's another widely used stainless steel material, except 304. The extra added Mo element gives the material better resistance capacity to chloride corrosion. So it can be used to make boats.
321: It contains Ti element, which reduces the risk of material weld corrosion.
347: It contains Niobium element, making it more applicable to aircraft parts and chemical equipment.
400 Series
It is Ferrite and Martensite stainless steel, manganese free, and can replace 304 stainless steel to a certain extent.
408: It contains 11% Cr and 8% Ni, with good temperature resistance but weak corrosion resistance.
409: It is the cheapest grade, and is widely used as auto exhaust pipe.
410: It has good abrasion resistance capacity and bad corrosion resistance capacity.
416: It contains S element, improving the fabrication property.
420: It can be used to make surgical tools.
430: Cheaper than 200 series and 300 series. It has good formability, but bad temperature resistance and corrosion resistance capacity. Can be used to make car decorations, banding strap, cable ties, cable zips, post caps, pipe clamps.
440: High strength blade steel, the hardness can reach 58HRC. Widely used to make razor blade.
500 Series
It's a kind of heat-resisting chrome alloy steel.
600 Series
It's martensitic precipitated hardening stainless steel.