Truss nail plate
Views: 227 Author: Site Editor Publish Time: 2018-11-28 Origin: Site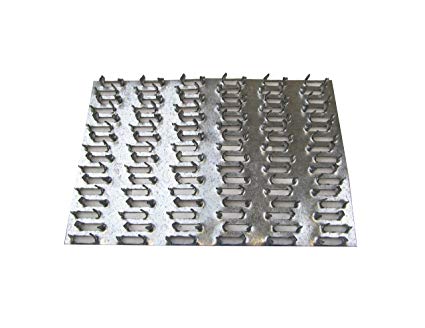 The truss nail plate or gang nail plate is a frenulum. Truss nail plates are light metal plates used to connect the precast light frame timber truss. The truss nail plates are manufactured by excessive pace stamping machines that punch out the plate teeth, and shear the plate to required dimension. A lot of sizes and gauges of truss nail plates are synthetic to suit a variety of joint geometries and loading. By using hydraulic presses or rollers embedded in wood, the teeth will allow different trusses to be joined together. The truss nail plate is used to connect wood of the same thickness in the same plane. When used on trusses, press them into the side of wood with special hydraulic tools.
The truss nail plate is based on the truss nail wood connector which is a metal plate with multiple spikes or nails projecting from one face. The truss nail plate connectors are pressed into the floor of the wooden the use of massive hydraulic presses, inflicting the nails to embed inside the wooden. Timber factors can be joined together with strength and simplicity to make trusses and different structural wood additives.
Advantages of truss nail plate:
Improve construction efficiency.
Maintain wood integrity;
As a connector, the truss nail plate has good synergistic effect with wood and has good plasticity.
Incorporate preformed teeth making it quick and easy to press into wood
Teeth are spaced accordingly to eliminate timber splitting
Twisted tooth reduces tooth withdrawal
Packing of truss nail plate:
Usually truss nail plate is packed by carton,different size, the per carton quantity is different. Of course, we also can as buyer's required do the package.