Usage of fiber optical plastic wire clamp
Views: 225 Author: Site Editor Publish Time: 2018-12-20 Origin: Site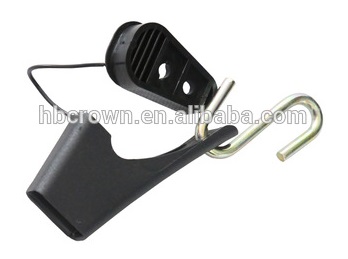 The fiber optical plastic wire clamp is used to connect triple overhead access cable to equipments or buildings.Widely used for indoor and outdoor installation.
Fiber optical drop wire clamp consists of two parts,the plastic part made of nylon,steel hook is hot dip galvanised or stainless steel.Cable drawing hooks are made of carban steel(Zinc Plated,Hot dip galvanizing),stainless steel(201,304),hanging hardware,hard material,with S type for option.
Stainless steel wire clamp has various advantages,such as good corrosion resistant,durable and economical.Drop wire clamp are suitable for fibre optic wire and the weight capacity will be 100 kg approximately.Equipped with the optical drop wire clamp are a low cost and fast alternative to installing.They can prevent the cable from sharp edges when in applications.As for the fiber optical cable,they will cause no cable insulation damages or slipping,if exact load achieved.
1.Used to Telecom construction
2.Support and tension flat electrical wire,UV resistance and strong tensile
3.Plastic with nylon,the S hook with carbon steel or stainless steel
4.Max pull force for 100-150kgs
5.Good corrosion resistant, stable durable and economical
6.Widely used installation for indoor and outdoor
7.Usually support one or two pairs telephone drop wire at span clamps,drive hooks, and various drop attachments
8.Package for plastic bag,carton,and pallets