Using stainless steel banding strap
Views: 142 Author: Site Editor Publish Time: 2018-12-28 Origin: Site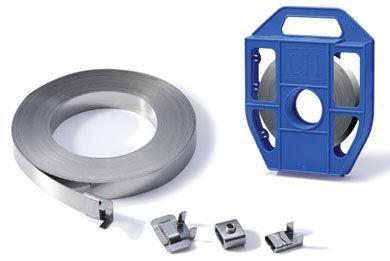 Stainless steel bands are a great product with the advantage of versatility and durability. Our different grades of stainless steel bands perform good in harsh environments,which play a good role in the application.
Stainless steel bands are available for stainless steel 201,304,and 316,the width of 6mm-20mm,thickness of 0.5mm-1mm,you can choose the grades depending on the type of application required. Whether the conditions of indoors or under the sea,the banding straps can reduce maintenance and replacement costs.The stainless steel band straps can work well with our buckles and tools.stainless steel fasteners are most popular product in the industry,and the important one is that the buckle and strap must be the same size to reach the perfect result.
Stainless steel bands strapps are widely used in many industries,but in all cases,it is very important for its performance.It has a high fracture strength makes it more convenient for heavy duty applications.The stainless steel band straps are resistant to corrosion than other metal and plastics,so they can survive longer in adverse conditions.Stainless steel is designed to be durable,so when the material needs to be fixed in other places,stainless steel banding strapps can be a perfect solution.The first considerations is usually the type with a standard edge or a safe edge.Because there will be a risk of bare hand to contact material directly,safety margins are very critical.This type is used for signs,bins,cables.