What are Post Caps You Must Need Them?
Views: 337 Author: Site Editor Publish Time: 2018-10-16 Origin: Site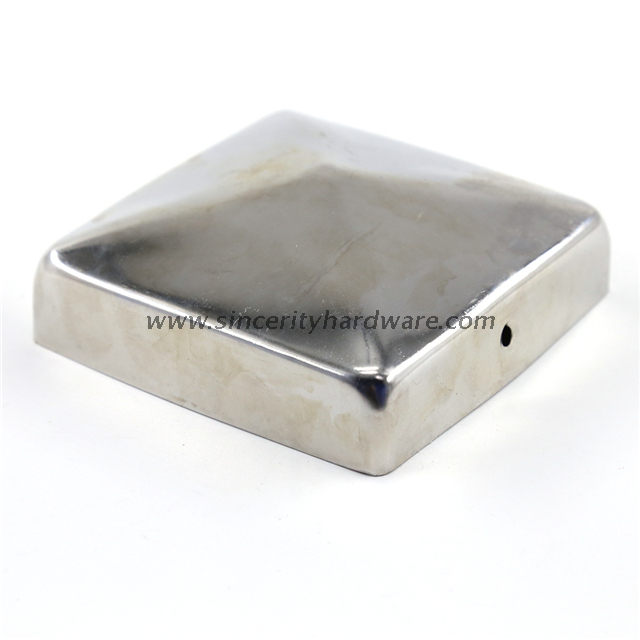 We have the Available Material for Iron Steel,Copper, Stainless Steel,Casting Aluminium, and Finish for hot dipped galvanized,coating brass/copper, cowdercoating.Usually size for 71mm,77mm, 91mm,101mm,111mm,116mm,121mm.Shape for round with pyramid, square with pyramid, ball type etc.Used for fence posts, deck posts, square posts and post boxes
Our copper and satinless steel fence post caps are suitable for standard sized mailboxes,arbors,gates and lamp post, such as 4x4, 5x5, 6x6, 4x6 and 8x8,and easy to install,these sturdy square brass gate caps slide across and twist to the top of the fence or deck post, fixed simply with provided screw sand easy to install, which is strong and safe.Our skidded post caps fit for standard size posts and comply with simple screws.Decks, fences, railings and mailboxes need to be protected by weather and natural factors, especially the top, which absorb most of the moisture and external damage.durable and stable.
We have a low profile incorporate your fence design, present this traditional, basic, tan pyramid hat,the material of copper and stainless steel are entirely solid and watertight, extending the life of each column,deck or fence for many years. Our stainless steel and copper post caps will bring immeasurable value for you.Our fence posts of copper and stainless steel will increase the appearance of home and yard. Please do not worry,the post caps material made of solid copper or stainless steel,which can be used for long time.The length of the slide lip is completely unique to the mail hat storage products to provide the best protection of the water,copper surfaces will naturally form turquoise or raw gloss can be preserved with spray (not included) over time.
The rear caps can make your fence post top more beautiful and excellent and offers design flexibility.In fact, they are decorative, durable and practical, our post caps have a unique,timeless,customized look, you and your neighbors will love.No matter your fences and fence posts are soiled, or you want them to look like weathering as you age, our fence post caps will prevent your supports and speed the overall look of your porches or deck railings If fence with post cap will be perfect for your taste, no post caps is incomplete.
The trendy copper pyramid by preventing rain and elements extends the life of yours fence post.Our post caps is 3/4'' with mounting holes. From all angles,This stamping designs can give you a good look, We gurantee our copper post caps are 100% copper. If you ask them to keep shiny, we can cover them with clear metallic paint, outdoor spray paint. These sturdy square brass gate caps slide across and twist to the top of the fence or deck post,only need to be fixed with screws.All the post caps has 2 screw mounting,which need 2 mounting screws. Different from the other metal post caps and tops,for the corner, which have no joints or solder.while a direction screw is recommended to prevent theft.All post hat storage copper products are stamped with a piece of copper and are guaranteed never to crack around the corner.