What is bird spike?
Views: 29 Author: Sarah Publish Time: 2018-09-04 Origin: Site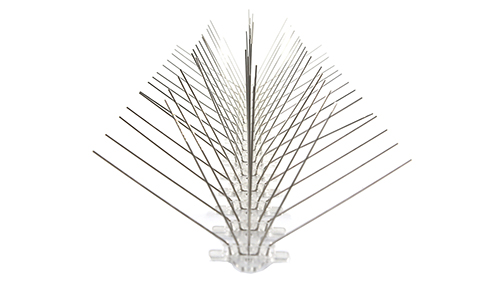 Bird Spikes
Bird Spikes are strips of long, needle-like rods used for bird control. They can be attached to building ledges, pipes, window sills, beams, street lighting, and commercial signage to prevent birds from perching or roosting. They are available in stainless steel and polycarbonate as well as a variety of sizes. Bird spikes are one of the most highly recommended forms of bird control, especially in urban situations, as they provide a long term, physical barrier, are economical and extremely easy to install.
Effectivly – Prevent pigeons from perching on your property.

Widely used – Be great for most applications.

Long-lasting – polycarbonate bases provide years of maintenance-free protection.

Easy to Install – Attach quickly with adhesive, nails, screws, cable ties, etc.

Transparent – Polycarbonate is transparent which is practically invisible.

Flexible – Mount easily on flat, curved or irregular surfaces.

Environmentally Friendly – And non-lethal. Anti Bird Spikes do not harm or injure birds.

Economical – Sturdy plastic base does the same job as stainless steel at a fraction of the cost.