What is rebar support chair?
Views: 136 Author: Site Editor Publish Time: 2018-11-21 Origin: Site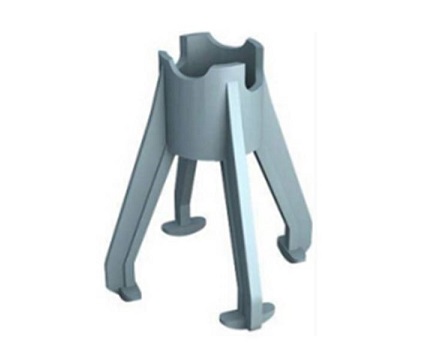 Rebar support chair is strong, bearable, not easy to damage, low construction cost, labor saving and time saving, and also has seismic effect. In reinforced concrete members,it is one of the indispensable work pieces, especially the cantilever board, such as balcony, awning, and the steel bar under force is suspended on the upper part.
Workers must operate on face trampling, easy to force the steel bar trampled below and lose the tensile effect, countless balcony rain canopy collapse events are caused by this, in order to ensure cantilever components construction quality, the role of rebar support chair can not be ignored, construction in the cantilever part of the root mat on the Plastic rebar chair, so that the stress longitudinal reinforcement is stable, will not appear quality accident.
Similarly, in cast-in-situ slabs, there are many steel bars on the upper supports floating, and the position of these steel bars determines the bearing capacity of the members ability, and to ensure the position of the upper longitudinal bars, all rely on the construction of rebar chair erection and fixed, it can be seen that small building rebar support chair, plays an important role in the top of the column effect.
Rebar chair is used easily and constant to maintain rebar and cord mesh in buidling assignment, you can snap rebar or wire mesh into the hollow clamps without delay with saving tie wires. Accurate load capability can permit concrete pouring applicance and those paintings at the rebar grids. Surroundings protecting and recycled performance with out corrosion and rust is greater famous in constructing works now .
Plastic rebar chair for concrete support are used to assist the rebar mats or cages at the favored heights with a purpose to obtain right concrete coverage and maximize the gain of reinforcing metal.
Plastic rebar chair are comprised of durable non-corroding excessive density plastic that's both robust and light. Our rebar chair structures can not trade shape and could provide uniform concrete cover.
Plastic rebar chair for concrete support may be used in tilt up and slab work. They're solid and economical. The fastening system of rebar chair is strong and versatile.