Anchor Clamp for ADSS Cable
Views: 11 Author: Site Editor Publish Time: 2023-01-05 Origin: Site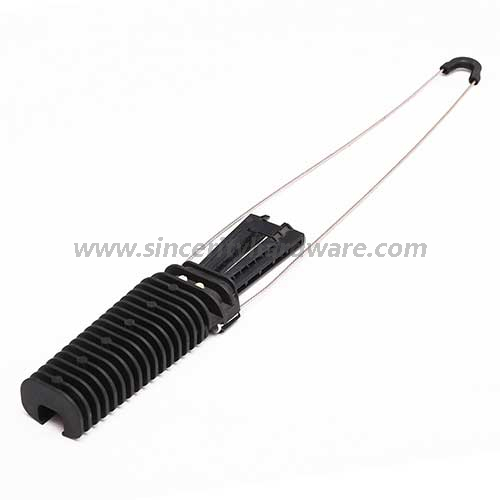 Anchor clamp for ADSS cable are also called wedge tension clamps, designed for anchor and tension ADSS cables in the middle route or dead end during the construction of outdoor overhead fiber optic lines.
Main features:
1. Easy to install without additional tools
2. Self-adjusting wedge, will not damage the cable jacket
3. Material: UV-resistant thermoplastic and stainless steel, durable
4. Open wire bail allow easy installation with pole brackets and hooks
5. Good environmental stability
6. Fair price
This ADSS Anchor Clamp consists of outer shell, a wedge, a U-shaped thimble and stainless steel. All plastic parts are made of nylon reinforced UV-resistant plastic. The wire bail is made of high-quality stainless steel with excellent tension strength. All materials are weather proof and guaranteed for long period usage.
The operation of this tension clamp is very simple and requires no other tools. The self-adjusting wedges hold and tension conductors well without damaging the cable insulation. The open type wire bail design allow easy installation on cross arm, pole bracket or hooks. You can find all relevant accessories in our product group.
All Crown Wealth products are designed to be convenient for quick installation, we care about product quality and cost-effective. All Crown Wealth produced products are inspected by a series tests in our inner laboratory which including UV resistant test, tensile strength test, aging test and etc. Through these tests, to make sure our product will meet client's application standards.
Crown Wealth is a professional manufacturer of indoor and outdoor FTTH line constructions and relevant accessories.
Welcome to contact us to know more about the price of this ADSS Anchor Clamp.