Anchor Clamp for ADSS Cable
Views: 20 Author: Site Editor Publish Time: 2022-09-14 Origin: Site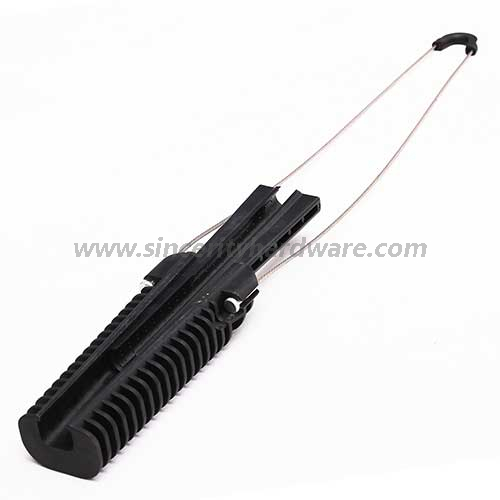 Anchor or tension clamps for all dielectric self-supporting cables (ADSS) are developed as a solution for aerial round fiber optic cables of different diameters. These optical fiber fittings are installed on short spans (up to 100 meters). ADSS strain clamp is enough to keep the aerial bundled cables in a tight strength position, and appropriate mechanical resistance archived by conical body and wedges, which does not allow the cable to slip from the ADSS cable accessory The ADSS cable route may be dead-end, double dead-ending or double anchoring.
ADSS anchor clamps are made of Flexible stainless steel bail and Fiberglass reinforced UV resistant plastic body and wedges.
The stainless steel bail allows the installation of clamps on the pole bracket.
All the assemblies passed the tensile tests, operation experience with temperatures ranging from -60℃ up to +60℃test: temperature cycling test, aging test, corrosion resistance test, etc.
Application:
The wedge type anchor clamps are self-adjusting. While installation pulls the clamp upstream to the pole, using special installation tools for
optical fiber lines like pulling sock, stringing block, and lever hoist to tensile the aerial bundled cable. The measure needed distance from bracket
to anchor clamp and start to lose the tension of cable; let the clamp's wedges anchor the cable inside by degrees.